Head of the state Datuk Seri Anwar Ibrahim gets a keepsake as a sape from Datuk Amar Douglas Uggah while (from right) Toh Puan Datuk Patinggi Raghad Kurdi Taib, Yang di-Pertua Negeri Tun Abdul Taib Mahmud, Sarawak Chief Tan Sri Abang Johari Openg and Representative State head Datuk Seri Fadillah Yusof cheer.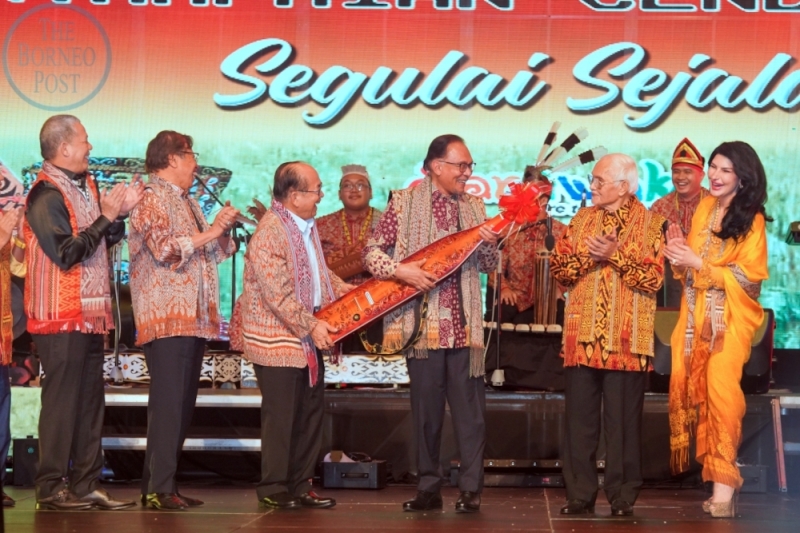 According to Prime Minister Datuk Seri Anwar Ibrahim, Malaysia will use the slogan "Segulai Sejalai" from now on to foster unity among its people of various racial and religious backgrounds.
He stated that the Iban Dayak motto, which means "Together in Unity," has caught his attention due to the message it conveys about fostering unity.Tonight I want to ensure that this slogan is adopted by the entire nation." That implies at whatever point I discuss solidarity, collaboration, fellowship and strength in number among Malaysians, I will say 'Segulai Sejalai'," he said during the amazing Gawai Dayak 2023 festival at the Borneo Conference hall Kuching (BCCK) this evening.
He also praised Sarawak for being able to stay together through thick and thin, saying that the entire nation should follow its lead, despite the fact that there are always elements that cause division.He stated, "Although divisive elements do exist throughout the country, it is more contained in Sarawak, and we can thank the leadership of Sarawak Premier Tan Sri Abang Johari Openg for that."Aside from that, he stated that Malaysia's unity should not be taken for granted because it is difficult to achieve among the people.
He added that Malaysia must make use of its diversity as a strength to build the country because diversity can also make or break a country.He added, "Therefore, we must keep in mind what our forefathers fought for when they were fighting for the country's independence, and we must do our best to build the nation and take care of its people."In the meantime, Anwar has agreed to investigate the requests made by Deputy Premier Datuk Amar Douglas Uggah in his earlier speech regarding the native customary right (NCR) land survey and funding for the construction of non-Islamic religious houses of worship in Sarawak.
He stated that Putrajaya would allocate an additional RM10 million this year to carry out a native customary rights (NCR) land survey. Additionally, he said that he would discuss the issue of allocating funds to construct non-Islamic religious houses of worship in Sarawak with Abang Johari.He stated, "The NCR land issue must be resolved as soon as possible," and "We may allocate whatever we have for the building of non-Islamic religious houses of worship in Peninsular Malaysia, we will allocate for Sarawak as well."Uggah stated earlier in the event that the federal government only provided RM2 million for the NCR land survey this year, and that additional funds are required to assist in the construction of additional non-Islamic religious houses of worship in Sarawak.Additionally, Anwar announced that the state would receive RM350 million for the construction of medical facilities, such as the Sarawak Cancer Centre, laboratories, and clinics.Abang Johari, Deputy Prime Minister Datuk Seri Fadillah Yusof, Deputy Premier Datuk Sri Dr Sim Kui Hian, and a variety of federal and state ministers and other officials were also present at the event. Also present were Yang di-Pertua Negeri Tun Pehin Sri Abdul Taib Mahmud, Taib's wife Toh Puan Datuk Patinggi Raghad Kurdi Taib, Abang Johari, and Taib's